True Colors~Guest Blogger Capt. Brian Schiff
Years ago, I was performing a preflight inspection of the outside of an MD-80 on a cold, clear, windy winter morning. I took note of the shiny, silvery airliner reflecting, no, glistening in the sun. I had not yet become accustomed to the paintless aluminum livery of American Airline's jets. I come from a legacy of looking at white airliners with red trim. As I looked up at the American Airlines logo I wondered if I ever would have the same pride that I felt when I saw the TWA logo. Not likely, I thought. My father was a TWA captain. I grew up around TWA airplanes. Plus I was still bitter about being furloughed as a result of the TWA-American Airlines merger.
As I approached the tail section I noticed that the brisk winter wind was blowing the rudder to one side. This revealed a section above the rudder that wouldn't normally be exposed. What I observed gave me pause. It was a tiny section of red paint on the leading edge of the rudder—again not normally exposed but for mother nature kindly displacing the rudder to reveal a little bit of this airplane's inner beauty and former self. The red paint is left over from when the airplane used to wear TWA's colors. Immediately Cyndi Lauper's "True Colors" song came to mind. And I heard that song in my mind for the rest of the pre-flight. This stirred up a hornet's nest of emotions for me, but most prominent was pride. I've never been a big fan of the MD-80 because I flew Boeing and Lockheed for most of my flying career. Now—after sighting the red paint—I was more proud of this airplane than ever. It made the transition with me, and somehow took on a majestic stance. This little peek at the airplane's true colors changed my outlook that day. I started out cold and bitter, and then I became proud with song in my step. I don't know what was more prominent—the upturn in my mouth or the tear in my eye.
I like to take lessons from my experiences and draw parallels to life. I am not a very spiritual man, but I think a lot and always am looking to better myself. Sometimes I look at people the same way that I initially looked at this airplane. I see what's on the outside and immediately judge them for what I see. Then upon closer inspection I see a hint of true colors and have an entirely new image of them. This encounter reminded me not to judge until I see what's inside. So next time I am about to form an opinion, I'll wait until I see—even if only a hint of—true colors.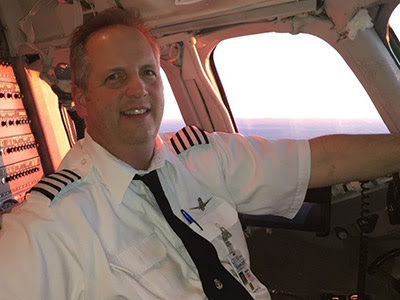 Captain Brian Schiff
NAFI Board of Director
NAFI #8752
(Photo taken and provide by Brian Schiff)
Visit Brian's website at www.captainschiff.com and see what he has been up to via more stories, thoughts, and adventures
Blogs are intended for educational purposes only and do not replace independent, professional judgment. Statements of fact and opinions expressed are those of the author individually and, unless expressly stated to the contrary, are not the opinions or position of the National Association of Flight Instructors. NAFI does not endorse or approve, and assumes no responsibility for, the content, accuracy or completeness of the information presented. Readers should note content may appear in various media, including print, email, enews without further notice.
Share this post: